Fan creation contests are back and better than ever!!!
Before we get to June's prompt, let's skip straight to the boring mumbo jumbo that precedes every contest 😛 (nothing has changed there — it's the same as it was in previous posts)

RULES
No excessive gore, inappropriate scenes, cursing, or anything else you wouldn't find on BlogClan. Entries of this nature will be deleted.
Only one entry per person!
Be respectful of all participants! Let's make this fun for everyone!
Your entry must relate to the Warriors world.
The deadline is June 30th, 11:59 PM EST.
PRIZES
These apply to both the fanart and fanfiction contest!
🥉 Third place: a drawing (fursona, OC, Warriors character)
🥈 Second place: a drawing (fursona, OC, Warriors character) OR the ability to choose live chat's colors
🥇 First place: a drawing (fursona, OC, Warriors character) AND the ability to choose live chat's colors
⭐ We need volunteers to draw prizes for the winners, so if you'd like to offer up your services (they'd be endlessly appreciated 😀 ), please fill out this form! ⭐
Now onto the exciting info!
WHOOOOOOOSH! 
Main Contest Prompt
Last November, many fans were redrawing frames from old Warriors MAPs/AMVs (typically ones that inspired them as artists/they watched on repeat years ago) sooooo . . . I thought that could be the basis for our June art contest prompt! 🙂
Your task: to redraw a frame from a Warriors MAP/AMV in your own style. Preferably an older MAP/AMV, but if you weren't stalking YouTube in the early 2010's, then you can use a more recent one instead.
When you submit your entry, make sure to cite the original artist and video!
Here's an example from Velo Cira who redrew a frame from Alli Kat's Scourge AMV – Bones Shatter
Many more like it can be found online! (Google Images, Twitter, Tumblr, etc.)
WE'LL NEVER STOP, CAUSE WE'RE ONLY GETTING BETTER pic.twitter.com/24PeLufoUD

— Velo (@Velo_cira) November 9, 2017
Now onto the extra special something mentioned in the title of this post >:)
Mini Contest Prompt
Yes, you heard that right! This month we're having TWO contests! A main one and a mini one. Why? Beccaauusseee I wanted us to MWHAHAHAHAHA
The prompt: photoshop the picture of a cat (any one, even your own!) into a traditional (non-digital) painting! 😀 Try to use old-timey works, rather than modern ones, and when you submit your entry, cite the original painting's name and artist! **this is important**
Like these beautiful photoshop creations by Fat Cat Art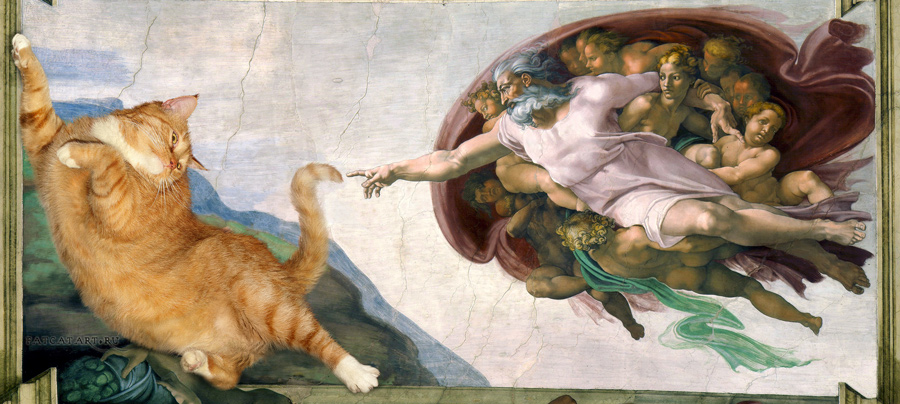 Your photoshop skills don't have to be top-notch for this contest! Quite the contrary. Entries will be judged based on their silliness alone.
And you can include any number of cats in your piece. One cat. Two cats. Red Cats. Blue Cats. Twenty cats. Half a cat. 1/8 of a cat. It's up to you!
Only one winner will be selected for this mini contest, and their prize will be a drawing by Bramblefire (who's a mind-blowingly talented artist! Just check out their deviantart 🙂 ) aaaannd I can find you 10 secret pages to claim, if you'd like, or give your secret page a shout out on the next post!
—
Submitting Your Entry
You can either post a link to your artwork in the comments section, or upload it using this Smart Form!