Once upon a time – three years ago, to be exact – BlogClan made history when 36 incredibly talented, one-of-a-kind members came together to create this masterpiece, featuring their purrsonas! 🎉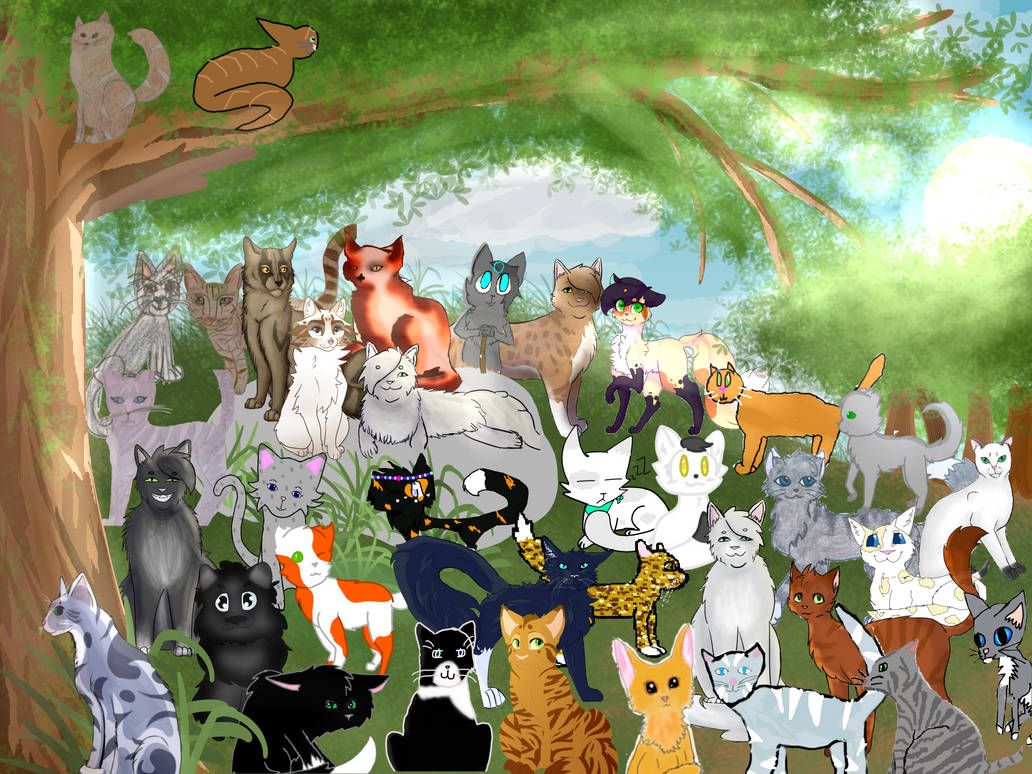 Yet much has changed on BlogClan since 2017 – from Emberdawn and Iceflower being elected as our deputy & medicine cat, respectfully, to countless new members joining (yes, I mean you. and you! and YOOUUU! 👀 ) So, it only seems fitting for us to host another BlogClan Art Collaboration, commemorating our current members.
Show BlogClan as it stands, now.❤️
—
Your Task
draw a picture of your purrsona (persona/fursona/warrior identity)
that's it! Nothin' more to it. Once everyone has theirs submitted, I will then add them all together on one background. 😀
Guidelines
 NO linearts ❌ [edit: as in, the work has to be COMPLETELY your own work, not someone else's that you colored in, even if the original artist is okay with it.  Your work itself can HAVE actual line art in it, so long as you drew it]
 Your drawing may be digital or traditional
IF your drawing is digital … please have it be on a transparent background. If that's not possible, then a standard white background works
IF your drawing is traditional … please have it be on a white background, and take a clear photo of it
 Someone else may draw your purrsona for you! Feel free to ask other BlogClanners.
Can't find someone else to draw yours? Consider making it yourself! 🙂 The BlogClan Art Collaboration is all about showcasing members' talents. And I'm sure yours would be absolutely beautiful!
Really don't have the time/ability to draw your own? … no worries whatsoever! Just let me know, and I'll take care of it. No warrior shall be left out who doesn't want to be!! 😁
If you have a drawing of your fursona already made, feel free to use that! You aren't required to make a new one specifically for the Art Collab.
Your purrsona must be fulbody (meaning no detached heads floating in space 😛 ), but you can be in any pose you choose
Due Date
May 31st, 2020 … no more extensions!
Please post your finished piece in the comments! OR upload it to this Smart Form:
—-
Aaaaaaand, I believe that covers everything!
Have a question? Ask below.
In the meantime, let us make this the biggest & best BlogClan Art Collab yet!!!!!!!! 🐱💕 
yes, yes I have risen from the grave just for this, mwhaha
if you see this, know I love you very very much and you're now OFFICIALLY a member of a secret organizations of feline masterminds known as the Flower Powers ….. welcome